CORPORATE MEETING
CorpXSasia organises bespoke meeting itineraries between Institutional Investors and Corporate representatives anywehere in Asia.
We represent you as the Institutional Investor in booking the corporate meetings, essentially functioning as your extended network in Asia.
We organise both individual "Reverse Roadshows" as well as small group tours around certain investment topics, "Thematic Roadshows". CorpXSasia also organises local events such as round table discussions with company CEO/CFO's, independent experts and Corporate Access conferences.
We provide access to both NDR's and Conference Call NDR's for Asian listed corporates where investors do not pay for incoming Corporate Access under our 'initiating party pays' principal, ultimately averaging out your Corporate Access costs annually.
COVERAGE
Local representatives in Asia.
At CorpXSasia we recognise the importance of finding and meeting the right companies, and within that, the correct individuals. Our local representatives have a deep understanding of the market they cover and the Corporates active in it.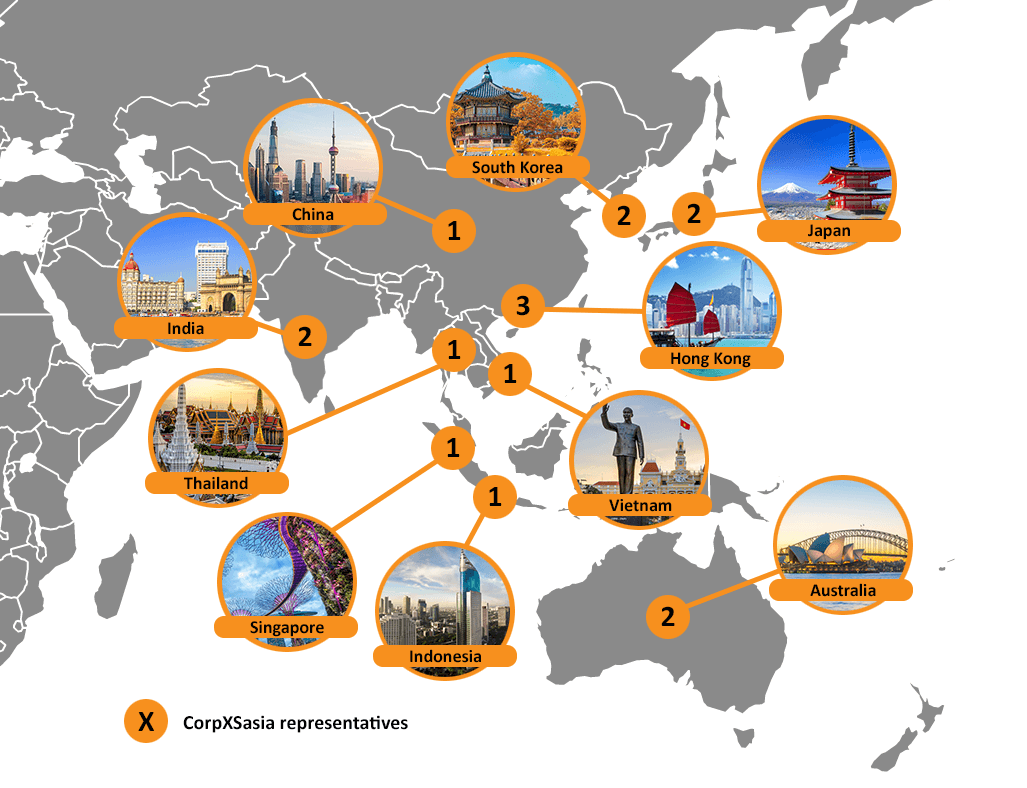 REVERSE ROADSHOW
Your efficient Corporate Access partner across time and language barriers.
CorpXSasia organises fully integrated, bespoke Corporate Access itineraries for Institutional Investors travelling on field trips to anywhere in Asia. By managing the entire process, we provide you with an integrated itinerary that contains all the elements and information required to execute your Reverse Roadshow confidently allowing you to focus full on your corporate meetings.
THEMATIC ROADSHOW
We arrange Corporate Access itineraries for 2-5 Institutional Investors travelling on pre-arranged field trips to anywhere in Asia, pursuing an investment theme. Travelling in company allows the sharing of different perspectives, stimulation of new ideas and the questioning of old ones.
Visit our interactive Offerings page here to see current Thematic Roadshows and Events
VIDEO & CONFERENCE CALLS
In current situations where travel is complicated, or even somewhat impossible, the use of technology becomes crucial in keeping in touch with Corporate counterparts. Video and conference calls as an alternative can prove to be incredibly complementary to your existing Corporate Access strategy. For more information please click here.
LOGISTICS
Our local presence enables us to offer a seamless end-to-end logistics service.
We regard logistics arrangements as an extra service to our clients, so we pass the actual costs directly to you without a profit margin. Due to our longstanding relationships with such organisations we can often obtain the most competitive prices. We are happy to assist you in all forms of logistics, whether that be ground logistics, obtaining corporate rates for hotel bookings, flights or reservations at a particular restaurant.
ADD ON
CorpXSasia offers a number of additional meeting services to complement your corporate meetings in the region and optimise your Reverse Roadshow; including expert meetings, independent research analysts, translations and meeting accompaniment (local language accompaniment, or ex-institutional sales).
EXPERT MEETINGS
CorpXSasia can arrange meetings with various insight providers at the request of the Institutional Investor. We apply the highest ethical standards to ensure that individuals are not only authorised to speak on behalf of their company/organisation but that we do not facilitate any bribery or corruption (*please see our anti-corruption and anti-bribery policy).
CATEGORY ONE: Chargeable insight providers. These are insight providers that we hire at our client's request and whose charges are passed directly on to the client. The charges will be detailed on the client's invoice. These include; analysts, economists, strategists, consultants, industry experts and preferred insight providers. **
CATEGORY TWO: non-chargeable insight providers. We will not remunerate the services of the insight providers categorised below other than through a gift in accordance with our gift policy to compensate for their time provided. These include; Government officials, journalists, regulators and stock exchange representatives, central bankers, industry experts not provided by preferred insight providers. ***
** We work only with insight providers who can stand the test of scrutiny and have confirmed in writing that the relevant industry expert is authorised to speak on his/her topic and that he/she is authorised by the company to receive a sum of money for this effort.
*** We will not remunerate any individual who cannot prove in writing that he/she is authorised to speak on behalf of the company/organisation. Here to we only work with 3rd party suppliers who have the infrastructure to confirm the process is legal, transparent and authorised.